The best phones for gaming in 2018 have top-tier specs, sharp displays, and long battery life to maintain peak performance during extended playing sessions. Console-quality 3D games are now the norm on phones, like Fortnite and PUBG Mobile, but you'll need a high-quality device for the best gaming experience.
To that end, we've examined all the options and chosen the best phones for gaming based on the factors above. Here's our list of top 10 android gaming smartphones.
10. Samsung Galaxy Note 9
The Samsung Galaxy Note 9 is a very iterative device, but don't let that fool you into thinking it isn't the best Android gaming phone on the market. Not only does this have one of the biggest, brightest and highest res displays on the market – it's all backed up by the latest Snapdragon and Exynos CPUs on the market today.
9. Moto Z2 Force
The Moto Z2 Force is a curious case. It has the quality 5.5-inch Quad HD display and the powerful Snapdragon 835 chipset for gaming, but on its own, it's not the most amazing gaming smartphone. A somewhat small 2,730mAh battery doesn't give it the long life we'd like to see in a gaming phone.
8. Google Pixel 2 XL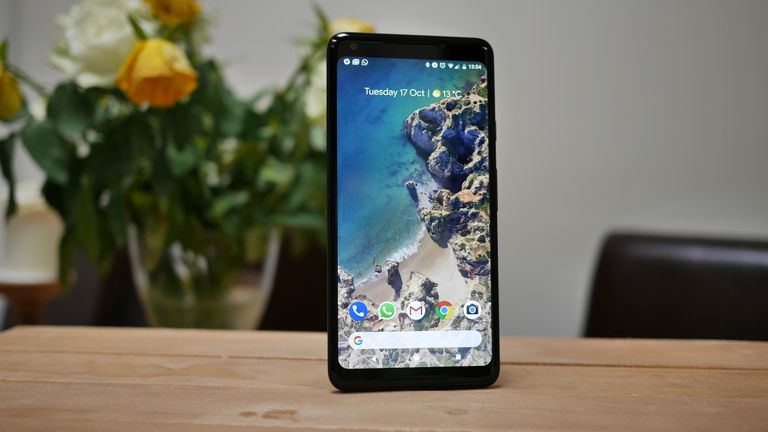 Like many of the other phones on this list, the Pixel 2 XL is running a Snapdragon 835 chipset, which will deliver smooth gaming performance in most mobile games. Of course, the Pixel 2 XL is also capable of delivering VR content with the Daydream View headset.
7. Sony Xperia XZ2
Aided by a 5.7-inch 1080 x 2160 HDR display and the same Snapdragon 845 chipset powering the latest Galaxy smartphones, Sony's Xperia XZ2 jumps ahead of much of the competition. This new offering from Sony is simply a great phone, and having the latest Qualcomm system-on-a-chip gives it stunning video game performance.
6. Galaxy S9 and S9 Plus
The Snapdragon 845, Adreno 630 graphics, and 4GB of RAM (6GB in the S9 Plus) make both of these phones incredible performers both in the game and out. And, since the market of other Android phones boasting the new Snapdragon 845 hasn't caught up, Samsung easily snags this seat.
But, a powerful chipset isn't all that earns the Galaxy S9 and S9 Plus its ranking. The S9 has a plenty large and plenty sharp 1440 X 2960, 5.8-inch display, and the S9 Plus has an even larger 6.2-inch display with the same resolution. Both are Super AMOLED and support HDR10 for stunning visuals.
5. iPhone 8 Plus
The iPhone 8 Plus has a less-showy Full HD display, but in our experience is still great for gaming. The 5.5-inch screen is plenty spacious. Apple's A11 Bionic CPU and graphics make for a mean gaming experience, and ARkit offers up augmented reality games that give Apple's iPhones more to offer gamers. This is the one to buy if you want a gaming phone with a home button and don't want to spend top dollar on the iPhone X.
4. iPhone X

While other phones may slightly outperform the iPhone X, the biggest advantage of Apple phones for gaming is the App Store. Part of this is due to the love developers show it: iPhones almost always get the best games first, like Fortnite, which launched exclusively on iOS for some time.
Apple is also on the forefront of delivering the first meaningful and mainstream AR experiences, including AR multiplayer gaming as one of the many iOS 12 features.
3. Razer Phone 2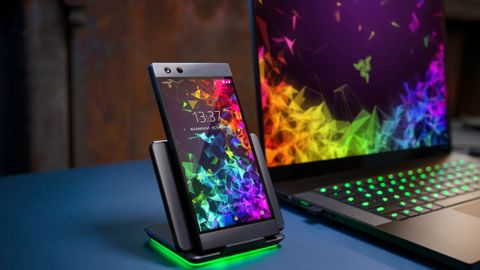 The first Razer Phone was a solid first effort to bring the gamer-specific brand to a mobile device, but it had a few shortcomings that dropped it further down our list. The second version has addressed some and come out with a stronger device for it, though it's still aimed primarily at gamers.
What does that mean? The camera and display aren't nearly as impressive as other phones that cost this much, so casual gamers might want to look elsewhere. But if you're more serious about mobile gaming and can afford it, this is a solid choice.
2. iPhone XS Max / iPhone XS

The iPhone XS Max is the bigger, better brother of Apple's new flagship smartphone in a few key ways, but if you're picking either model for gaming, you might as well go with the best. The 6.5-inch screen on the iPhone XS Max is bigger than the one on its 5.8-inch sibling and its larger battery managed to stay working nearly a full hour longer than the standard iPhone XS.
1. Asus ROG Phone

We haven't had time to dive into the just-released Asus ROG Phone, but this gamer-focused phone looks promising, so we're keeping it at the bottom of the list until we can properly give it a spin. Off the bat, its top specs and sharp screen look solid.
True to Asus' Republic of Gamers brand, you can buy a selection of accessories to augment your mobile game experience. These include a clamshell case with a bonus screen, a pair of controller halves that clip to either side and a docking platform that extends your phone to a big display, Nintendo Switch-style.